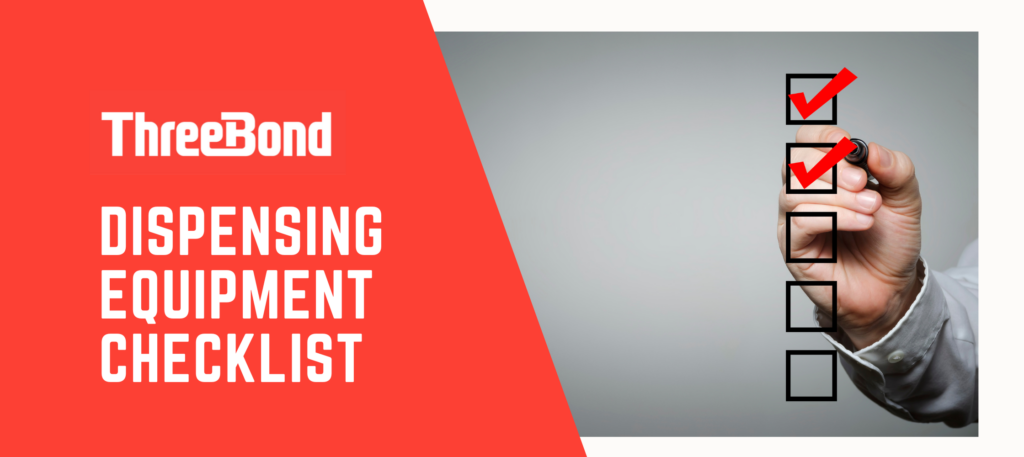 Dispensing Equipment Checklist: 5 Things to Look for in a Supplier
To an outsider, adhesives and adhesive dispensing systems might seem like a small component of the overall manufacturing process. But, if you're in the automotive industry, EV fuel cell and manufacturing industry, or consumer electronics industry, you know that's not true. Adhesives and the dispensing systems used with them play a pivotal role in the success of your manufacturing assembly line.
Selecting the right adhesives for your application is not always simple. Pre-made solutions won't always meet the rigorous standards of your industry, and they won't always give you the reliable finished product you need to maintain your credibility. So, when it comes to looking for adhesive dispensing equipment, there are essential things to look for in the supplier you choose.
5 Things to Look for in an Adhesive Dispensing Equipment Manufacturer
The manufacturer you choose for adhesives or adhesive dispensing systems is more than just a supplier, they are a partner. The products they create will be used to represent your brand and your reputation. Below are some of the most important things to look for in the adhesive dispensing manufacturer you choose for your industry:
1. Quality
While finding a quality adhesives manufacturer, not all vendors are created equally. You need to find a partner who not only understands adhesives and dispensing equipment but one who understands the rigorous standards of your industry. Find a partner, like ThreeBond, who works to meet or exceed industry standards and continues to innovate product lines to ensure you have the best and most innovative solutions for your manufacturing facility.
2. Availability
Since the pandemic, many manufacturers have struggled to find the materials they need to continue providing their customers and partners with the quality products they need. As a manufacturer, it's crucial to maintain quality and consistency when it comes to automotive adhesives. At ThreeBond, we manufacture our adhesives and dispensing systems in-house so you can ensure you are getting the consistency your facility needs.
3. Affordability
The cost of your adhesives, sealants, coatings, and adhesive dispensing systems directly impacts the cost of your finished product. By lowering costs on your manufacturing supplies, you can lower costs and improve margins on your finished products. We know how competitive things can be in the automotive, EV fuel cell, and consumer electronics markets. That's why ThreeBond does everything within our power to keep your costs low while maintaining the quality you expect.
4. EXPERTISE
ThreeBond continues to be at the forefront of innovation when it comes to adhesives, sealants, coatings, and other similar products. We never rely on out-of-the-box solutions for adhesive dispensing systems and can help our clients customize a solution that fits their existing manufacturing process. As a manufacturer, we understand the importance of delivering products that meet or exceed the rigorous standards of the industries we serve. Our expertise spans the globe, and our R&D department offers experts in all segments and markets we serve.
When it comes to choosing an adhesives dispensing equipment manufacturer, it's critical to your facility to find one you can trust. Do your research and choose a partner that provides you with the confidence that they have the breadth of knowledge, capabilities, and global experience you need.
About ThreeBond International Inc.
ThreeBond has been driving the future of adhesives and gaskets as it applies to the
automotive manufacturing industry
. Our brand has continued to focus on producing safe and efficient adhesives, sealants, gaskets, and coatings for automotive manufacturing and other industries. Our innovative technologies are created to support the growth of manufacturers in a way that makes us a trusted and reliable partner through every step of the supply chain.
Contact us to learn more
about how we can collaborate with you to develop new products and formulations to meet your specifications.