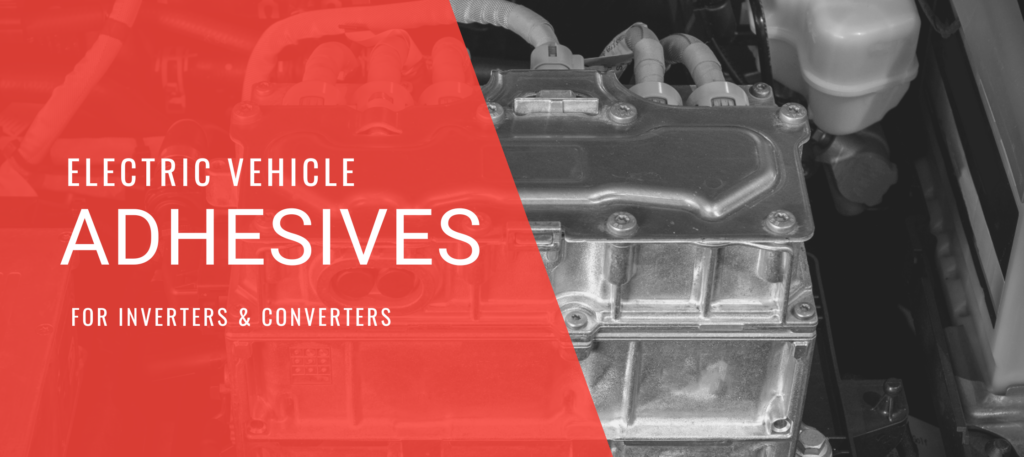 Inverters and Converters: Maximizing the Use of Adhesives, Gaskets and Sealants
The United States is just one of many countries emphasizing the transition from internal combustion engines (ICEs) to battery electric vehicles (EVs). According to
Energy.gov
, sales in the US of new light-duty plug-in electric vehicles, including all-electric vehicles (EVs) and plug-in hybrid electric vehicles (PHEVs), nearly doubled from 308,000 in 2020 to 608,000 in 2021. And, that trend will only continue to grow in the years to come.
At ThreeBond, our
EV and fuel cell manufacturing
sector continues to develop innovative solutions for the automotive industry that correspond with EV trends and provide industry-wide efficiencies. 
One area of focus for our ThreeBond team is creating innovations for inverters and converters. In hybrid and other electric vehicles, these are the two key elements that work together to manage power and recharge the circuits. 
The Function of Inverters and Converters in Electric Vehicles
An inverter is an electrical device that converts electricity from a DC source to an AC source to be used to drive the car. DC power from a hybrid battery is fed into the primary winding in a transformer within the inverter housing. Through an electronic switch, the direction of the current's flow can regularly change. The alternating current of electricity provides power to the EV traction motor. 
In an electric vehicle, converters are electrical devices that change an electrical power source's voltage (AC or DC). There are two common types of voltage converters: 
Step-up converters - increases voltage

Step down converters - decreases voltage
Most EVs and hybrids feature a single unit inverter/converter to manage their electric drive systems. The inverter/converter plays a vital role in the function of the vehicle and can supply a current to the battery pack for recharging and vehicle propulsion. Proper cooling and ventilation are critical to keeping these components operational within an electric vehicle. 
Ultimately, the inverter/converter coordinates how divergent voltages and current types work together in EVs and PHEVs. 
How ThreeBond Creates Adhesives, Gaskets and Sealants for Inverters/Converters
Since inverters/converters are typically integrated into one unit in EVs, the need for high-quality sealants, adhesives and gaskets is vital. By offering more advanced adhesive technology with enhanced functionality, including potting agents, flame-resistant options, and heat radiating agents, ThreeBond can help fuel the growth of the EV industry alongside the global power inverter/converter market. 
Applicable ThreeBond Product Lines
While we work to advance our product lines to meet the needs of our auto equipment sector clients, we currently provide several solutions that are designed to meet the rigorous standards and demands of the EV industry: 
Heat dissipating agents

- Since our liquid heat-dissipating agents enter and adhere to a minute space in heat radiating materials, such as coils and power terminals in comparison with heat radiating sheets, it delivers an excellent heat radiating performance. Our lineup of heat-dissipating agents includes ThreeBond 1225B, 1225C, 2270J, and 2955P. 



Sealing of Case

– Sealing to ensure no intrusion in the inverter/converter case housing is key for durability and reliability. We offer 3 types: Our TB1200 series, 1 part moisture cure FIPG (Form in Place Gasket), TB3081 and TB3166 series, 1 part UV CIPG (Cure in Place gasket) and TB1234 series, 1 part heat cure FIPG, to meet all customer specifications and requirements.



High-heat-dissipation one-component heat-curable epoxy compound resin

- ThreeBond 2270J is a one-component heat-curable epoxy compound resin with high thermal conductivity (4.2W/m・K). Therefore, it can cure at low temperatures. It is suitable for bonding and potting of which durability is required.



Coating agents

- ThreeBond 3075E is a UV-curable coating agent that is excellent in water resistance, transparency, flexibility, and surface curability. When this agent is used for coating the substrates of electrical components, it exerts a moisture-proof effect to prevent corrosion and migration of electrodes



Mounting of chips

- ThreeBond 2274 Series is a one-component heat-curable epoxy compound resin developed as an underfill agent. The series improves connection reliability since it can absorb the impact on the IC package mounted on a substrate and prevent the package from dropping due to heat cycles. 



Certified according to incombustibility standard UL94 V-0

- This adhesive has been given the certificate of V-0 in the same resistance standard UL94 (vertical combustion test). We have a rich assortment of products suitable for various purposes, such as adhesion, xing, and potting of materials used around parts with a heat source, including an inverter and converter. Our lineup of incombustible grade agents includes ThreeBond 1222C, 1537E, 2045, 2145, and 2272F.  
Learn more about our unique ThreeBond solutions specifically manufactured for the automotive industry by
contacting us directly
or browsing our website for our smart solutions for an increasingly digital landscape. 
About ThreeBond International Inc.
ThreeBond has been driving the future of adhesives and gaskets as it applies to the 
automotive manufacturing industry
. Our brand has continued to focus on producing safe and efficient adhesives, sealants, gaskets, and coatings for automotive manufacturing and other industries. Our innovative technologies are created to support the growth of manufacturers in a way that makes us a trusted and reliable partner through every step of the supply chain. 
Contact us to learn more
 about how we can collaborate with you to develop new products and formulations to meet your specifications.