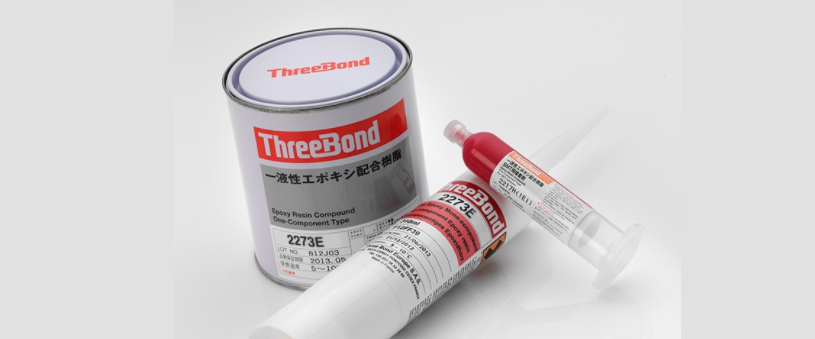 Product Spotlight: Magnet Bonding with an Induction Cure
With an array of TB2200 Series Epoxy Resins to choose from at ThreeBond, it can sometimes be time-consuming to find the exact right product for your application. When you're running a business, time is money. You can't afford to make the wrong choice and get stuck mixing, stirring, and measuring your solvents.
ThreeBond 2273E is a heat curing, one-component epoxy resin without solvent. This easy-to-use resin is uniquely developed for the instant induction curing and is ideal for bonding and fixing materials such as ferrite and steel.

Why Choose Magnet Bonding with an Induction Core?
Induction bonding uses induction heating to cure bonding adhesives. It's the main method for curing adhesives and sealants for the automotive industry and is beneficial for a variety of other applications. Induction is the preferred bonding method for steel and aluminum sheet metal as well as for lightweight composites such as carbon fiber. The versatility of the ThreeBond 2273E makes it an asset across industries.
Other benefits of this unique one-component epoxy resin include:

Extremely simple application through an automatic dispensing system
Significant energy savings for your business
It facilitates automation of assembly
Minimal shrinkage and outgassing while curing
Solvent-free
What Industries Benefit from Magnet Bonding with an Induction Core?
The ThreeBond 2273E cured resin excels in electric properties, offers great solidity, and very good chemical resistance. The versatility of this epoxy resin makes it ideal for a variety of industries including the automotive industry, small engine manufacturing, consumer electronics industry, and EV and fuel cell manufacturing.
Some of the unique characteristics of this heat-curable epoxy resin is that it features a high Tg, high-peel strength, and can be induction cured. Other unique traits include:

White color
70 viscosity
40 lap shear strength
D94 hardness
Tg - 120°C
Conventional oven cure rate - 150°C x 30-minutes
When it comes to industries as highly technical as automotive aftermarket, you can't leave anything to chance. You need to choose an epoxy resin that will automate your processes, work effectively, and help to improve efficiencies for your employees. The ThreeBond 2273E is versatile enough to help solve a lot of your current assembly issues.

About ThreeBond International, Inc.
With every product we develop, we take great strides in minimizing adverse environmental impact. All of our industrial adhesives, sealants, and coatings are designed to provide a useful solution for your business, while also helping to cultivate a culture of mindfulness towards our planet. We proudly serve a myriad of industries with our enormous product assortment. Our reputation at ThreeBond is fortified by how closely we partner with our clients to meet their needs. Learn more.