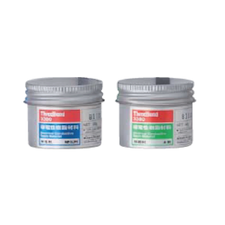 3300 Series
Electro-Conductive Resins
usage
Electrically Conductive Resins
These Electrically conductive resin can connect multiple electrical contacts simultaneously and make it possible to create an electrical connection in materials that cannot be soldered. They are electro-conductive resins made up of synthetic resin and a conductive filler. They are used to connect various electrical contacts and for conduction. Silver, nickel, carbon, etc. are used as the electro-conductive fillers, and epoxy resin, urethane resin, silicone resin, and synthetic rubber are used as binders.
With different options of electrically conductive resins, it is easy to find the right appearance, viscosity, volume resistivity, chip bonding strength, and cure time that you need for your manufacturing application. Most often used in consumer electronics, EV and fuel cell manufacturing, and in the automotive manufacturing industry, the applications are endless.
Just some other hugely beneficial ways electrically conductive resins are used include: SMD crystal oscillators, Point bonding of chips for Sensitive electronics, Magnetic heads of HDD, and Grounding of electronic components.
How can you decide on the right electrically conductive resins for your application? Our team can help. We offer detailed information about each one of our electro-conductive resins so you can find the right characteristics, including ones that are flame retardant, low halogen, low outgassing, heat resistant, and hard to bond. We know there is no one-size-fits-all solution for our clients, so we go out of our way to customize our bonding adhesives to meet the criteria of various key applications. Ultimately, our goal is to help you create a better, stronger adhesion for your finished goods to ensure you maintain your reputation and improve efficiencies within your production line.
Why Trust ThreeBond? ThreeBond is more than just an adhesives manufacturer. As a leader in sealants, coatings, and cleaners, we make it easy for our clients to make us a trusted partner for a variety of aspects of their manufacturing process. We focus on innovating our products to keep up with changing demands. We do our best to continue providing solutions that improve production volume, prevent failures, and maintain a commitment to sustainability.

We invite you to learn more about our liquid gaskets and adhesives, silicone RTV sealant, anaerobic adhesives, polymer adhesives, instant adhesives, and more. Don't see what you need? Be sure to reach out to our team to develop customized solutions to suit your unique application.
UNIQUE PRODUCT CHARACTERISTICS
PRODUCT SPECIFICATIONS
( = download technical data sheet)
| Product Name | Features and Uses | Appearance | Viscosity (Pa*S) | Volume resistivity (Ω*m) | Chip Bonding Strength (Mpa) | Cure |
| --- | --- | --- | --- | --- | --- | --- |
| TB3303M | SMD-type crystal resonance conductive adhesive, silicone based, silver filler | Light Yellow | 40 | 1.9x10-6 | 3.6 | 180C x 60min |
| TB3303N | SMD-type crystal resonance conductive adhesive, silicone based, silver filler | Light Yellow | 41 | 2.3x10-6 | 3.1 | 180C x 60min |
| TB3315E | Conductive adhesive, synthetic rubber binder, carbon based filler, conductive hot melting, flexible, grounding of electronic components | Black Liquid | 6 | 4.3x10-2 | 0.92 | 150C x 30min |
| TB3331D | Conductive adhesive, epoxy, based heat curing, grounding and conductive bonding of electronic components | Silver | 25 | 0.5 x 10-5 | 15 | 80C x 60min |
| TB3350C | Conductive adhesive, acrylic-resin binder, silver filler, low resistance | Silver | 1 | - | - | 25C x 24hr, 60C x 60min |
| TB3351C | Conductive adhesive, Synthetic resin binder, nickel filler, Low Halogen content | Gray | 3 | 8.0x10-5 | - | 90C x 60min |
| TB3373C | Anisotropically conductive adhesive for screen printing, stage B type | Light Greenish-Yellow | 75 | - | - | 24C x 24hr, 60C x 60min |
* Measurements are taken under the standard testing conditions for each grade.
SUGGESTED MARKETS:
PLEASE NOTE: Not every product we make is represented here. If there is a product you don't see, please contact us and we will provide information and specifications on request.