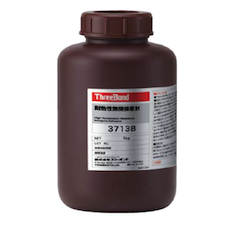 3700 Series
Heat-resistant, inorganic adhesives
usage
These products are single-component heat resistant adhesives. They use ceramic and inorganic polymers and provide heat resistance of 1000 C and higher. They offer excellent adhesion with inorganic substances such as ceramics, glass, and metals. They can also be used for filling adhesion and coating of sensors and elements, for oxidation-preventing coatings of metals, and as binders for heat-resistant molding. When it comes to industrial strength heat-resistant, inorganic adhesives, you need a brand you can trust. At ThreeBond, we pride ourselves on making viable solutions that span across various industries. Our single-component, heat-resistant adhesives are also water resistant and have insulation properties. Ideal for the automotive aftermarket and consumer electronics industry, our inorganic adhesives are the smart choice.
UNIQUE PRODUCT CHARACTERISTICS
PRODUCT SPECIFICATIONS
( = download technical data sheet)
| Product name | Features and Uses | Appearance | Viscosity (Pa*s) | Heat Resistance (C) | Lap Shear Strength (Mpa) |
| --- | --- | --- | --- | --- | --- |
| TB3732 | Inorganic adhesive with Heat resistance, water resistance, insulation properties | White | 10 | 1400 | 2.8 |
* Measurements are taken under the standard testing conditions for each grade.
SUGGESTED MARKETS:
PLEASE NOTE: Not every product we make is represented here. If there is a product you don't see, please contact us and we will provide information and specifications on request.