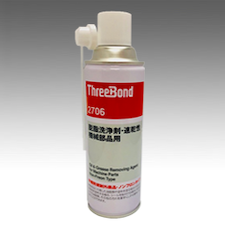 2700 Series
Industrial Cleaner
usage
ThreeBond's high-performing industrial parts cleaner easily and effectively removes grease and dirt. It is excellent for cleaning a wide range of materials, from mechanical components to plant floors.
PRODUCT SPECIFICATIONS
( = download technical data sheet)
| Product Name | Features and Uses | Packaging |
| --- | --- | --- |
| TB2706 | Aerosol degreaser, will not affect plastics, for general purpose | 480 ml aerosol can |
| TB2720C | Industrial lubricant, water-based, ease of assembly | 15 L (Pail), 55 gal (Drum) |
* Measurements are taken under the standard testing conditions for each grade.
PLEASE NOTE: Not every product we make is represented here. If there is a product you don't see, please contact us and we will provide information and specifications on request.