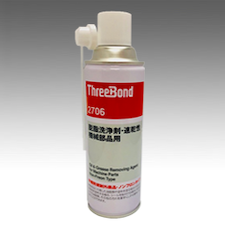 2700 Series
Industrial Brakes & Parts Cleaners
usage
These series of industrial brake cleaners include degreasing and cleaning agents for cleaning automotive brake shoes, brake drums, mechanical parts, and other parts with oil and grease stains. We are proud to have perfected our high-quality industrial brake cleaners for use in various industries including the automotive aftermarket, automotive manufacturing, motorsports manufacturing, small engine manufacturing, and more. Find the best options for your application by shopping our selection of industrial brake cleaners below.
PRODUCT SPECIFICATIONS
( = download technical data sheet)
| Product Name | Features and Uses | Packaging |
| --- | --- | --- |
| TB2706 | Aerosol degreaser, will not affect plastics, for general purpose | 480 ml aerosol can |
| TB2720C | Industrial lubricant, water-based, ease of assembly | 15 L (Pail), 55 gal (Drum) |
* Measurements are taken under the standard testing conditions for each grade.
PLEASE NOTE: Not every product we make is represented here. If there is a product you don't see, please contact us and we will provide information and specifications on request.