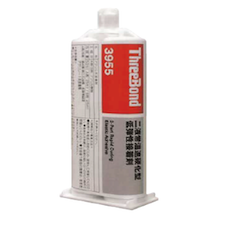 3900 Series
Structural Adhesives
usage
Structural adhesives from ThreeBond are impact-resistant and yield a good bond balance of shear bond strength and peel bond strength. These structural adhesives offer two-component (2K) structural adhesive bonds making them impact-resistant and ideal for applications that require fast hardening and high heat resistance. Our structural adhesives are designed to complement other methods of adhesion including nails, rivets, screws bolts, or welding processes.
With several options for structural adhesives at ThreeBond, you can find the right appearance, set time, and handling time for almost any application. Plus, you'll find options that fit your budget and keep you on track. Perfect for automotive manufacturing and EV and fuel cell manufacturing, our structural adhesives are designed to get the job done right with minimal down-time. With various related products, ThreeBond ensures you can find the right structural adhesives and coordinating products to suit every single application.
Just some of the applications our structural adhesives are used for include: sign manufacturing, EV and fuel cell manufacturing, automotive manufacturing, and more.
Why Partner with ThreeBond?
Your job is high-pressured. Making the right decisions every step of the way directly impacts the outcome of your finished product. We are focused on offering a full range of industrial adhesives, sealants, coatings, and cleaners to help you get your job done in the best way possible. All our structural adhesive products range in shear bond strength and peel bond strength to help you find the best solutions for every application. We continue to innovate our products to improve efficiencies, safety, and cost savings for our ThreeBond customers.
Download our data sheets to learn more about our ThreeBond structural elastic and acrylic adhesives.
PRODUCT SPECIFICATIONS
( = download technical data sheet)
| Product name | Features and Use | Appearance Part A | Appearance Part B | Set Time (min) | Handling Time (min) | Mix Ratio |
| --- | --- | --- | --- | --- | --- | --- |
| TB3923/28 | 2 Part Structural Acrylic adhesive with excellent adhesive strength, fast hardening, high heat resistance | Light white | Dark green | 10 | 30 | 1:1 |
| TB3955 | Quick curing, two part, room temperature curing, elastic adhesive. Excellent thermal and moisture resistance | Light transparent blue | Light transparent yellow | 5 | 120 to 180 | 1:1 |
* Measurements are taken under the standard testing conditions for each grade.
SUGGESTED MARKETS:
PLEASE NOTE: Not every product we make is represented here. If there is a product you don't see, please contact us and we will provide information and specifications on request.