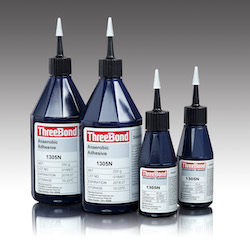 1300 Series
Anaerobic Adhesives
usage
Anaerobic Adhesives are acrylic liquid gasket adhesives that cure upon exposure to metal and removal of oxygen supply. They are typically used for the bonding and sealing of screws (threadlocks) and other interlocking parts. Upon full curing, within 24 hours, they become heat resistant. Many companies rely on anaerobic tube sealing because they maintain clamping pressures and prevent the corrosion and loosening of fasteners. Anaerobic tube sealing adhesives are also commonly used in applications to prevent leakage of moisture, gasses or other fluids.
ThreeBond offers anaerobic adhesives in many different strength grades and versions with UV curability. Halogen-free versions are also available. With a variety of options from ThreeBond, our customers can find anaerobic sealing adhesives that vary in color, viscosity, strength, workable cure speed, and final cure speed. One thing that all of our anaerobic sealing products have in common is that they are rigorously tested to withstand wear and tear in multiple applications across industries.
Just some of the applications our anaerobic tube sealing adhesives are used for include: Welch plugs, Small engine manufacturing, Motorsports manufacturing, and more.
MAKE THREEBOND YOUR TRUSTED PARTNER
When it comes to manufacturing, you can't afford to cut corners. All of the products offered by ThreeBond are designed to keep your business running smoothly. We design our products with end-use in mind. All of our product solutions are cost-effective, efficient, and safe for your team to use on a daily basis. We offer anaerobic adhesive solutions for a variety of industries, including automotive aftermarket, automotive manufacturing, motorsports manufacturing and aftermarket, and small engine manufacturing. Find the unique solutions you need to keep your costs low and your productivity high with ThreeBond.
Download our data sheets to learn more about our ThreeBond anaerobic tube sealing.
UNIQUE PRODUCT CHARACTERISTICS
PRODUCT SPECIFICATIONS
( = download technical data sheet)
Product name
Features and uses
Appearance
VISCOSITY

(mPa*S)

BREAK LOOSE TORQUE Fe(N•M)
Prevailing Torque (Fe)
Workable Cure Speed
Final Cure Speed
TB1303
High strength, used with bolts of any size
Green
150
33
35
2
24
TB1305N
High strength / Fast-curing, M10 bolts or larger
Green
700
46
23
1
12
TB1322
Medium strength, M10 bolts or smaller
Red
150
22
38
2
24
TB1324
Medium strength, M10 bolts or larger
Red
650
22
30
2
24
TB1342
Low strength, used with bolts of any size
Blue
140
8.1
-
2
24
TB1344
Low strength, M10 bolts or larger
Blue
650
6.9
8.1
<1
24
TB1360
Heat resistant, retaining, used with bolts of any size
Red
1100
29
20
6
24
TB1372D
UV-hardened, high strength, high Tg, for fitting
Green
100
33 (Pin & collar)
-
<1
24
TB1386H
Slow-curing, medium strength, for welch plugs
Fluorescent yellow
220
15.3
-
1
24
TB1359K
Anaerobic sealant for surface bonding, thixotropic, use with primer
Blue
2.5
38.2 (Pin & collar
-
2 min (5 s with primer)
24
TB1390R
Primer for accelerating curing of anaerobic sealants
Transparent Blue-Green
-
-
-
-
-
* Measurements are taken under the standard testing conditions for each grade.
SUGGESTED MARKETS:
PLEASE NOTE: Not every product we make is represented here. If there is a product you don't see, please contact us and we will provide information and specifications on request.